EXIT
-POC

KET® 

AG
Exit-site protective pocket with antiseptic silver pad
Description
Non-woven pocket closed on three sides provided with a silver ion-releasing pad.
Available on two supports:
1. Breathable hypoallergenic non-woven (NW)
2. Waterproof polyurethane membrane (PU)
Intended Use
The configuration of the device allows two functions:
active dressing of the exit-site thanks to the silver ion-releasing pad
containment of central venous or peritoneal catheter, to protect the skin around the exit-site.
Indication
The presence of the silver-based layer carries an immediate and long term antibacterial action. It helps to reduce the risk of local infection of the exit-site, of the tunnel or systemic (catheter correlated sepsis) related to the use of intravascular devices. Reduces the signs of inflammation and promotes tissue regeneration. The containment pocket also prevents redness of the skin caused by the mechanical action of rubbing the catheter.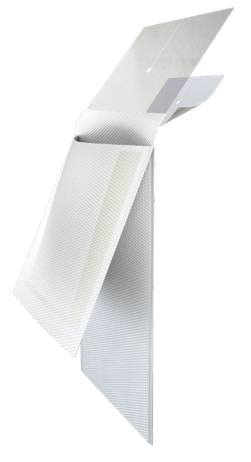 * Do not use silver dressings on patients sensitive to silver
Find out more about EXIT

-POC

KET®

AG
To discuss your needs or find out more about EXIT-POCKET® AG, contact us at Valiant Medical today