EXIT
-POC

KET® 

WP
Waterproof device for catheter exit-site protection
Problem
A catheter implantation affects a patients lifestyle and limits their habits regarding personal hygiene, as contact with water carries a high bacterial contamination risk and can increase infections related to the catheter. It is extremely important that the catheter exit-site and lumen remains dry.
Solution
EXIT-POCKET® WP is a waterproof bag that offers protection via complete catheter isolation from water, minimizing bacterial contamination risk. Patience can remain independent and once again enjoy the pleasure of a shower or swim.
EXIT-POCKET® WP is a comfortable and flexible product, developed to be used with all types of catheter available on the market today.
Description
Device for exit-site protection. Waterproof pocket closed on four sides provided with adhesive hole to be fixed to the skin. Available also with opening/closing system at the bottom of the pocket.
Intended Use
Containment of the catheter lumens during patient's hygiene and care procedures: suitable for protection of all exit-sites / catheters.
Indication
The device is completely waterproof: if well-positioned it protects the exit-site from getting in contact with water, preventing microbial contamination.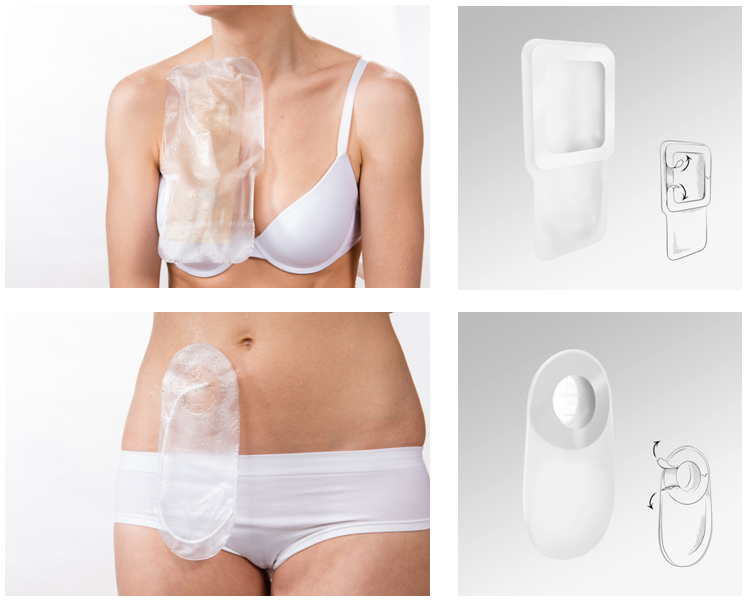 S2005H/WP – Suggested for catheter without dressing
S2011H/WP – Suggested for catheter with medium dressing
S2013HL/WP – Suggested for catheter with large dressing (horizontal hole)
S2013HL/WP – Suggested for catheter with large dressing (vertical hole)

Find out more about EXIT

-POC

KET® WP
To discuss your needs or find out more about EXIT-POCKET® WP Waterproof pocket for catheter protection, contact us at Valiant Medical today